DOI:
10.18413/2408-9338-2017-3-4-60-69
SCRUTINIZING THE CONSUMERS PREFERENCES OF SMART WATCHES AS THE PREREQUISITE FOR SUBSTANTIATING THE NEED FOR A SOCIAL ELEMENT IN MARKETING RESEARCH
The scientific article contains 1 table and 5 figures. There are 14 pages in the article. The author determines the problem on the basis of the final financial result of the company's activities. The author takes into account the capitalization of the company, as a factor. The author pays attention to the analysis of the company "Slice Intelligence" regarding Apple Watch. On the other hand, the author relies on numerous works in the field of marketing mix. The author formalizes his own judgments about the current state of the watch market. The author narrates about the questioning of the respondents. This article contains data from a survey of respondents' preferences concerning the smart watch market. The author analyzed these preferences. The author formulates conclusions in accordance with the conducted research. The conclusion about the need to take into account personal preferences takes place. The results of these studies indicate the necessity to use the social economy.
Keywords:
market
,
customers
,
global information revolution
,
digital technology
,
IT technology
,
IT companies
,
watch
,
smart watch
,
market segments
,
marketing
,
concept "Marketing- mix"
,
4Ps model
,
smartwatchp
,
assortment
,
brands of watches
,
smartwatch market
,
Apple Watch
,
respondents
.
Figures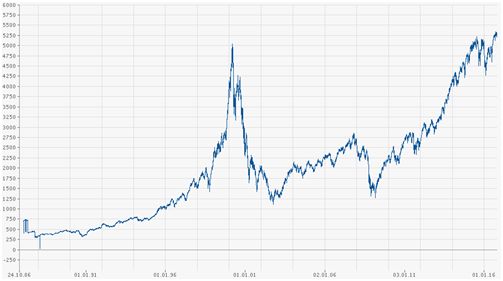 Figure 1. The dynamics of NASDAQ Composite Index[1]

---

[1]http://www.finanz.ru/indeksi/sredstva-grafika/Nasdaq_Composite

Figure 2. Projection of Apple watches by Christian Zibreg during the beginning of April up to the end of May (Zibreg)

Figure 3. Data of the online survey by Slice Intelligence[3]

Figure 4. The classification of watch brands, which needs correction

Figure 5. The results of the questionnaire

Количество скачиваний:

5188
All journals
Send article
Research result. Sociology and Management included on Scientific Electronic Library eLIBRARY.RU platform (license agreement No. XML-262/2019 dated April 2 2019).
The journal is included in the list of peer-reviewed scientific publications recommended by the Higher Attestation Commission (as of 09.08.2018)