DOI:
10.18413/2408-9338-2017-3-4-3-12
RELIGIOUS CHANGES: ORTHODOX CATECHISM IN THE SCHOOL SYSTEM OF REPUBLIC OF SERBIA (2001-2017)
One of the important indicators of desecularization of serbian society in the process of social transformation is certainly the return of religious education (catechism) to the serbian school system in 2001. In the article, the contradiction that has arisen in modern Serbian society around the teaching in secular schools of the "Law of God", in the context of law, the theoretical and philosophical and sociological contexts, is consistently analyzed. It is proved that it is the consistent realization of the value-semantic bases of this academic subject that has a significant potential for the removal of contradictions between nations and religions, the religious and scientific vision of the world, the traditional and "transitive" state of society. The importance of analyzing the contemporary social and religious context in which confessional education is carried out is affirmed. The corresponding context is defined by the notion of transi- tion, whose key characteristic is uncertainty; the isolation of the individual from tradition, individualism and consumerism in the value sphere. The consciousness of young people is characterized through the contradiction between the influence of consumer-market logic and the rejection of the world as a "monotonous and boring place devoid of magicality." As a consequence, the falsity of the key premise of the main actors initiating the return of the "Law of God" to the educational system of Serbia is shown, since Christianity and the Christian view of the world are no longer what this means, especially among young people. The need to enter into a personal relationship with her, which, as a rule, is actualized through dialogue is substantiated. "The law of God," according to his plan, in this connection should be an essential link in the formation of a value system, not a cognitive system of students, in the development of an educated and not formed personality. This subject is called upon to reveal the essence of Christian catechesis, which is the education of youth on the basis of the most important social and cultural values.Religious education should be a key element of the formation of values and the formation of personality: the main task of the plan and programme of catechism should be the attempt to harmonize the values of contemporary society with the basic values of religion (christianity), and also to show that the world and the Church (religious community) are together on the same path of discovering Meaning.
Figures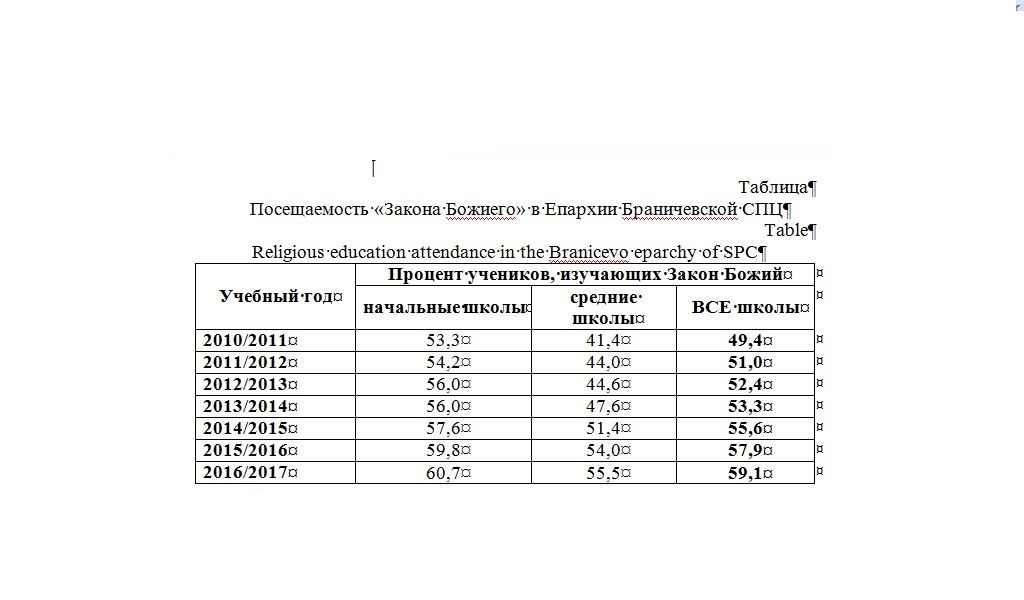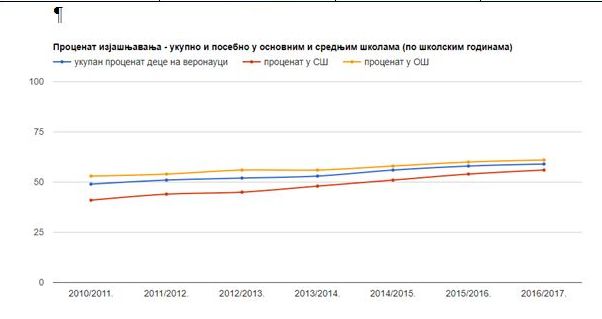 Рис. Процент принявших – в общем и отдельно в начальных и средних школах (по учебным годам)
-общий процент детей, изучающих Закон Божий;
-процент в начальных школах;
-процент в средних школах.
Fig. General and specific percentage of pupils by school year who attend religious education in elementary and high schools
Количество скачиваний:
3422