DOI:
10.18413/2408-9338-2015-1-1-28-41
ETHNIC AND CONFESSIONAL CONSCIOUSNESS AS FACTORS OF IDENTIFICATION IN THE RUSSIAN YOUTH OF THE BIG CITY (ON THE EXAMPLE OF PERM)
The authors consider the features of the national and confessional self-identification of the Russian youth as part of the title nation. The ethnic and national consciousness is analyzed as significant components of the process of individual and group self-identification. The research covers the studying and working youth – the newcomers and residents of the city. The youth is the object whose studying allows to predict the common factors of social development in the future. The consideration of the problem includes the multi-confessional, multi-ethnic and geographically boundary character of Ural as a region. The emphasis is placed on the specifics of behavior of representatives of the title nation, as it considerably determines the social portrait of the youth. The concept of the big city is used as a steady concept, possessing a number of characteristic features. The authors reveal the reasons for the reduced interest in the religious and ethnic self-identification with the group in young people belonging to different social groups and united by residence in the large city. The authors determine some conditions necessary for the intensification of the process of identification. Besides, they offer a number of ways aimed at updating the processes of identity formation in the youth.
Figures

Таблица 1 Зависимость представлений о традиционной культуре и гендерной принадлежности (в % к числу опрошенных каждого пола)

Table 1 Dependence of the views of traditional culture and gender identity (% of the questioned males and females)

Таблица 2 Осведомленность о национальных элементах культуры в зависимости от пола (в % к числу опрошенных каждого пола)

Table 2 Awareness of national elements of culture according to the gender (% of the questioned males and females)

Таблица 3 Зависимость гендерной принадлежности и гордости за национальную принадлежность (в % к числу опрошенных каждого пола)

Table 3 Dependence of gender identity and pride in national identity (% of the questioned males and females)

Таблица 4 Отношение молодежи к проявлениям национальной нетерпимости

Table 4 The attitude of the youth towards ethnic intolerance

Таблица 5 Отношение молодежи к религии

Table 5 The attitude of the youth towards religion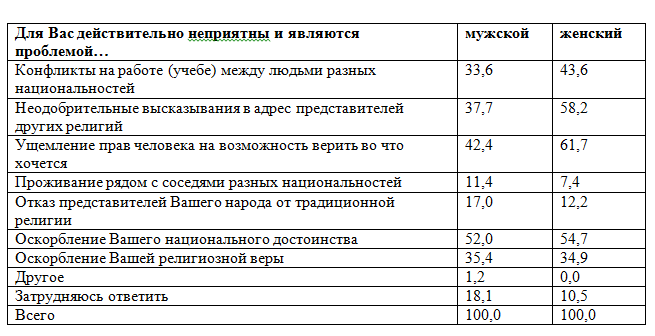 Таблица 6 Зависимость гендерной принадлежности и возможных нежелательных социальных отношений (в % к числу опрошенных каждого пола)

Table 6 Dependence of gender identity and possible undersiable social relationships (% of the questioned males and females)
Количество скачиваний:
6058