DOI:
10.18413/2408-9338-2021-7-3-0-8
Value foundations of volunteer practices of Russian youth
Volunteering is a concept that in recent years has firmly entered both everyday and scientific use. In the sociological field, the topic of volunteering is traditionally localized within the framework of economic sociology and sociology of management, which mediate its connection with labor, the functioning and development of the non-profit sector and civil society. Although the understanding of the nature and content of volunteer activity today goes beyond these industries, giving priority to systemic, institutional, community and other aspects of considering this phenomenon. The article attempts to study the phenomenon of volunteering from the perspective of the axiological approach, the methodology of which is designed to expand the existing understanding of the value foundations of volunteer practices in Russians. Based on data from studies of youth volunteer activities in the Belgorod region, as well as the results of all-Russian population surveys conducted in the period from 2017 to 2019. defines the value orientations that the younger generation demonstrates in relation to voluntary, selfless work at the personal and group levels, provides a comparative analysis of the value of volunteer work for young people and its direct participants. The value foundations associated with the implementation of the moral and humanistic principles of volunteer work are considered as a prerequisite for the massization of the process of integration of Russian youth into the volunteer movement and stimulation of the institutionalization of volunteering in modern socio-cultural realities.
Figures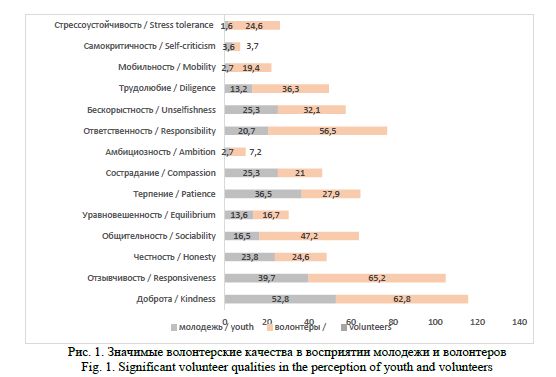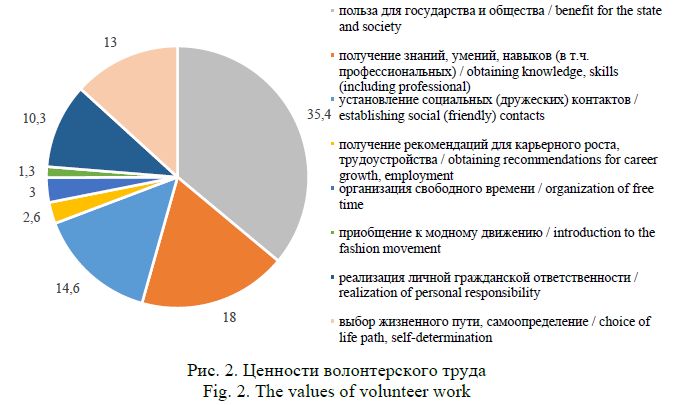 Количество скачиваний:
1809
Information for citation:
Kisilenko, A. V. (2021), "Value foundations of volunteer practices of Russian youth", Research Result. Sociology and management, 7 (3), 82-89, DOI:10.18413/2408-9338-2021-7-3-0-8.